I mentioned this in my previous post, but I recently reached 1,500 entries on MyAnimeList, so to celebrate, I am going to make a countdown list of my top 150 anime properties, this includes: series, movies, and OVA/ONAs! This will be divided into a three part series, so please enjoy!
⚠️ Areas with hazard signs will be marked for spoilers ⚠️
Before I start the list, here is a list of my specific stats
Series: 832
OVA(s): 318
Movies: 303
Specials: 22
Episodes: 26,413
Days: 417.81
Mean Score: 4.00
🌱 50: Nana
Commentary
The fateful meeting of two women named Nana on a train turns into a friendship full of crescendos and diminuendos; one of the best dramatic, music shows.
🌱 49: Ouritsu Uchūgun: Honneamise no Tsubasa
Commentary
⚠️ Spoilers ⚠️
When I first watched this movie, I was so taken aback by the visuals and the passion put into each frame of animation, that I had to go back and re-watch it a few times! There have been a lot of complaints about the morality of the main character in Royal Space Force, but I don't think the film ever tried to glorify anything that he did. It was just like, Exhibit A, "a morally ambiguous guy that joins the Space Force and lets the fame get to his head," and on the other hand, Exhibit B, "here's a meek-milled religious lady, who is so opposed to confrontation that she has to apologize for something that wasn't her fault." Like Neon Genesis Evangelion, I respect that they had the guts to show humanity as a whole, and not only the glorification of the hero trope.
🌱 48: Saint Seiya: The Lost Canvas
Commentary
In my humble opinion, Lost Canvas is the best Saint Seiya series, though I have an affinity of both childhood nostalgia and respect for the original series, especially when the Gold Saints are introduced in the Sanctuary arc. Lost Canvas puts the best aspects of the original series into a separate continuity, and I personally liked Sasha as Athena more than Saori.
🌱 47: Higurashi no Naku Koro ni Kira
Commentary
This OVA typically gets written off by fans as the fanservice, slash, moe arc of the series; and while episodes one and two of Kira are one-hundred percent, nothing but fluff, the third episode: Affinity Chapter, focuses on Mion and how difficult it is for her to be perceived as a viable option for Keiichi, since she's a tomboy. It's really adorable and Mion doesn't get as much dramatic focus as her sister (Shion), so it feels like she deserved her own little chapter! And the fourth episode: Dream Appearing Chapter, is one of the most beautiful episodes and the series, focusing on Hanyū and Rika's friendship!
🌱 46: Kuroko no Basket 3rd Season
Commentary
It was sad to see this series come to a conclusion, especially when the film wasn't as strong as the rest of the series; seasons two and three are wildfire levels of hot though!
Bonus: The OVA episodes are all really good, too! I didn't include them because I had enough Kuroko's Basketball on this list already, but if you watch the series, I would suggest checking them out.
🌱 45: Kuroko no Basket 2nd Season
Commentary
Kuroko's Basketball gets better as the series progresses; the matches get more intense, the chūnibyō abilities get more entertaining, the shipping between characters gets more believable (ahem, Kuroko and Taiga). A wildly entertaining visual spectacle!
🌱 44: Glass no Kamen (2005)
Commentary
Chronicling the story of a young aspiring actress, Maya, who is naturally talented and tries to tackle the world of method acting, each personality being a glass mask that she must find within herself. Glass no Kamen chronicles her struggles to gain notoriety, as well as beat her rival, Ayumi. Based off of a classic shōjo series that has had several adaptations!
🌱 43: Ginga Tetsudō 999
Commentary
A whimsical space adventure full of wonder, excitement, and existential horror! What could be better? Galaxy Express 999 is an expert at opening up your inner child's feeling of wonder into the unknown realms of Leiji Matsumoto's colorful universe.
🌱 42: Kimetsu no Yaiba
Commentary
This isn't just a monster-of-the-week story, but a journey that actually feels like there will be a rewarding end for each character. I believe that Gotōge's decision to have the series take place in the Taishō (1912—1926) era of Japan was perfect for the story at hand; it was a transformative time in Japanese history, post—the preceding chaos of the Meiji era (1868—1912) and before the militarism of the Shōwa era (1926—1989). I interpret the villain, Muzan Kibutsuji, as a representation of the mounting tensions that would lead to the infamous Shōwa (World War II) period of history; Muzan is the grand puppet master of the demons after all, not unlike the political puppeteers of that era.

From my review of Kimetsu no Yaiba (November 7th, 2019)
It's very rare that a shōnen protagonists' entire family is slaughtered, with a young boy staring in horror as he finds his disembodied mother and siblings; the only series I can think of where a similar event transpires is in Fushigi Yûgi and that's a shōjo series! Kimetsu no Yaiba generated a lot of new pathways for the shōnen genre to pass through. I would have never guessed ten years ago, during Naruto's heyday, that manga for young boys eventually mutate into a story about a teenager trying to save his sister from turning into a murderous demon. The incorporation of demons in children's comics used to be limited to Rumiko Takahashi's InuYasha and nothing beyond that had really surfaced, until now.
🌱 41: White Album
Commentary
⚠️ Spoilers ⚠️
When I saw where the plot was going in the first few episodes, I thought that it was going to be a classier version of School Days. Little did I know that the protagonist was going to be tempted by his girlfriend's manager, because he a natural attraction to older women because a complex over his dead mother, that then causes a slow burn, psychological rift between the two of them to form. Aquaplus is really good at writing stories!
🌱 40: Hotaru no Haka
Commentary
⚠️ Spoilers ⚠️
The ending sequence for Grave of the Fireflies is so profound, the idea of choosing to die, rather than conform to society is so powerful. Even if the main characters meet their demise due to blind faith and youthful follies, it's a damn beautiful and powerful film!
🌱 39: Mahou Shōjo Lyrical Nanoha: The Movie 2nd A's
Commentary
It's kind of funny because with the original series for Mahou Shōjo Lyrical Nanoha, I preferred A's over the first season; whereas, with the films, it's the other way around. Hayate and the Belkan Knights are still some of the strongest characters in the franchise, though! Beautiful recreation of the anime series!
🌱 38: Mahou Shōjo Lyrical Nanoha: The Movie 1st
Commentary
As opposed to the original series, the films for Mahou Shōjo Lyrical Nanoha are much more glossy, fine-tuned, and directed to be emotionally riveting than the TV anime. When I watched the first season of Nanoha for the first time, I didn't have as much of an emotional reaction to Fate's relationship with her mother, as I did in this film. It's not surprise though, the director (Keizō Kusakawa) directed episodes 1 and 11 of the original series, which were some of the only episodes that didn't look like blocky, Saturday morning cartoons.
🌱 37: Shinsekai Yori
Commentary
The Brave New World of anime series, Shinsekai Yori deconstructs the idea of utopian society; as well as, has an interesting take on tradition and the ramifications that can come to someone who rebels against rules that are set in place by a governing system.
🌱 36: Bakuen Campus Guardress
Commentary
Bakuen Campus Guardress (EN: *Combustible Campus Guardress) is often outshined by its successor series, Bastard!!—but in the waning light of obscurity is something the breaks the mold and was way ahead of its time, as far as progressive ideology goes. An apocalyptic comedy that is queer, in every sense of the word, and polarizing to its viewers.
*This title was coined by the members of the fansub group: Project Daicon—Guardress has never been officially licensed for English-speaking audiences.
🌱 35: Girls & Panzer
Commentary
Girls & Panzer is what happens when a lot of incredibly talented, young girls are incentivized to participate in a sport that's not exactly "feminine," and the sport is… shooting paint rounds at each other through tank cannons! It's like if a paint ball match was cranked up to two-hundred, the government even lets the girls effectively destroy towns in their skirmishes, and then will compensate the small businesses! The unrealistic nature of this series creates a kind of comedic effect, but many of the characters are also genuinely emotionally captivating!
🌱 34: Devilman: Yochō Sirene-hen
Commentary
I preferred this Devilman OVA to The Birth, because I love Sirene and I think the Demon Bird OVA is one of the most faithful portrayals of her character, other than in CB Go Nagai World!
🌱 33: Dororon Enma-kun Meeramera
Commentary
This is possibly my favorite Brain's Base series, it's a remake of Go Nagai's classic series: Dororon Enma-kun. An outrageous comedy series, it has a similar appear to Hideaki Anno's OVA series: Re: Cutey Honey! Not to mention that Enma and Yuki-hime have really good chemistry together and make a sweet couple in this one!
🌱 32: Space Runaway Ideon: Be Invoked
Commentary
The epitome of Ideon's atmosphere is like an old Go Nagai TV adaptation, except flooded with an interlacing misanthropic undertone and unavoidable tragedy. The melancholic ending theme with all of the characters floating in space is something that will always compel me.
🌱 31: Space Runaway Ideon
Commentary
It's beautiful and crushing in the same way as Texhnolyze, where there's no hope but there's painted fragments that seem to make life compelling. There's a Jungian kind of connection between all of us as a species that keeps us from completely drifting apart, and yet entropy is inevitable.
🌱 30: Detective Conan Movie 23: The Fist of Blue Sapphire
Commentary
More of an action, Mission Impossible-like thriller film than a mystery, but it was really fun and had a lot of good character moments with Sonoko, and her boyfriend, Makoto. As well as with Ran's father, Kogorō (and his drunken kung-fu moves), as Conan is trying to keep Kaito from stealing his girlfriend! Great movie, overall!
🌱 29: Detective Conan Movie 21: The Crimson Love Letter
Commentary
As usual, in Detective Conan, the story is well-written and the setting is breathtaking! In an interview, Detective Conan's mangaka, Gōshō Aoyama, stated that he was initially interested in writing a story about Hyakunin Isshu and karuta after watching the live-action adaptation of Chihayafuru.

From my review of Detective Conan Movie 21 (January 16th, 2020)
The 21st Detective Conan film exemplifies what makes a great Conan movie: interesting characters, fast-paced mystery, action, comedic throwbacks, and romantic intrigue! Before the disappointing 22nd film, starring Amuro as the central character, Kara Kurenai no Love Letter starts and ends with a punch! Between the eloquent Japanese mountainside and the climactic karuta hijinks, this is among one of the greatest Detective Conan films to date!
🌱 28: Detective Conan Movie 05: Countdown to Heaven
Commentary
This film is so great, if you're a fan of Ai Haibara particularly, you will love this movie! It has the script of a perfectly penned thriller!
🌱 27: Detective Conan
Commentary
I'm only a few hundred episodes into the main series, but the mysteries are so interesting that I could watch this show endlessly! The characters are really sweet, wholesome people, too, despite constantly having to solve murder mysteries! If you're a fan of Agatha Christie, you will no doubt love this series!
🌱 26: Yūki Yūna wa Yūsha de Aru: Washio Sumi no Shō
Commentary
Ms. Tōgō's (the veteran magical girl's) prequel series; it's difficult to explain what makes this series so great, without going into spoilers, but it was abundantly interesting to see where her story began. I'm excited for more adaptations of the manga and light novels, where we can see the past generations of heroes! If you're a fan of the Yūki Yūna franchise, I would suggest reading the Nogi Wakaba wa Yūsha de Aru manga!
🌱 25: Boku no Chikyū wo Mamotte
Commentary
If you're looking for a series that is a lethargic adventure revolving around identity and reincarnation, I think Please Save My Earth would be something worth looking into.

From my review of Boku no Chikyū wo Mamotte (October 7, 2018)
Boku no Chikyū wo Mamotte, or Please Save My Earth, has a very compelling plot with an average execution. Like many other series from the 1990s, the atmosphere is there, but the series is glued together by some very good scenes, followed by monotonous drama. Despite my criticism, I think Please Save My Earth is worth watching. It was a very important series to me when I was younger.
🌱 24: Neon Genesis Evangelion
Commentary
People aren't exaggerating when they tell you that every time you watch Evangelion, you notice something different. Neon Genesis is made from a genius formula in Hideaki Anno's mind that is able to deceive you into seeing something new every time. Neon Genesis is like Rorschach of your own mind and state of being every time you see it.

From my review of Neon Genesis Evangelion (September 8, 2018)
Covering all that Evangelion encompasses is a hefty task, but I'll do my best. This is probably an abridged version of what you may hear, considering how many interpretations, commendations, and anything else that could be said about this series: which you probably have probably heard people yammer about in gratuitous amounts.
I had absolutely no spoilers going into Evangelion, when I first inserted the disc into the DVD player, I was twelve. Internet culture wasn't as big back then and none of my friends had seen it yet. I picked up an imported three disc set from a used book store and decided to give it a try.
My only exposures to mech shows at that time had been: G Gundam, Gundam Wing, Gundam SEED, Big O, and FLCL. I wasn't entirely sure what I was getting into, I didn't even know that Evangelion was psychological or a raved about cult classic. My first impression upon watching it was that I didn't understand the complexity of the characters, I was too young to at the time, but I knew that it looked good, and at the time, I think I was more drawn in by the fact that I had never seen anything that looked like it before. The closest thing was Kidō Senkan Nadesico.
I watched blankly for a few days, until the series got to the middle point and I really started feeling things. I was engrossed, but I didn't know what I was watching. I was captivated, but all of the adult emotions made little to no sense to my young pre-pubescent mind. I was saddened by the character's losses and I understood Shinji's adolescence of alienation, confusion, fear, and hatred.
🌱 23: Minky Momo in Yume ni Kakeru Hashi
Commentary
MINKY MOMO IN The Bridge Over Dreams is a poignant gem. Both this OVA and its sister series, MINKY MOMO IN Tabidachi no Eki, take place after Momo has *lost her magical powers and are from the perspective of her life as a normal, prepubescent girl. While these stories are slightly more melancholy than the usual shenanigans of the serendipitous Minky Momo, it is a fitting, coming-of-age kind of sobriety; an inventive approach to a mahō shōjo's graduation from childhood.
*Explains the title change from 'Mahō no Princess' to 'MINKY MOMO in,' because Momo is starring in these side stories as a main character but she no longer is the spectacle.
🌱 22: Urusei Yatsura Movie 6: Itsudatte My Darling
Commentary
The art style is a little bit different in the last movie, but the story is reminiscent of something that you would see in the series and the characters are perfectly on-point and maintain their integrity. Itsudatte My Darling is an adorable grand finale to the series!
🌱 21: Tamako Love Story
Commentary
What a perfect conclusion to a cute series! I won't spoil what happens, but I cried during the scene at the end! This film is beautiful and touching, if you liked the characters in the original series, but wanted more romance: this film is the best of both worlds!
🌱 20: Omoide Poroporo
Commentary
I fell in love with every second of this movie, I consider it to be Isao Takahata's hidden masterpiece, because it isn't as revered as films like Grave of the Fireflies or Princess Kaguya. I related really heavily with main heroine in this one: I, too, had a hard time figuring out fractions in elementary school because my mind would overcomplicate the process! Gorgeous film, great story about finding yourself through remembering who you once were!
Note: Don't watch the English dub, for some reason they give a Japanese man from Yamagata an Australian accent.
🌱 19: Tonari no Totoro
Commentary
This is the first Ghibli film that I ever saw, as I child, I fell ill and had to be hooked up all-night in an intravenous therapy session. In the dead on night, the television in my room started playing Tonari no Totoro and I was spellbound by these strange, rural creatures. And as an adult, the sorrow that Satsuki feels from her mother's illness and Mei's sudden disappearance feels more real. As haunting as it is enchanting.
🌱 18: Hōseki no Kuni
Commentary
An interesting, lovely, and existential look into the lives of personified gems. The world is a really interesting hybrid of both Buddhist and Hindu lore; giving the atmosphere a mystical feeling to it. The characters are also all likable and have incredible seiyū performances attached to them.
🌱 17: Uchū Senkan Yamato 2199
Commentary
Breathe-taking remake of one of the most renowned science fiction stories of all time! The characters are well-written, the space adventures are captivating, and the war politics are among some of the best in the medium. Leiji Matsumoto's magnum opus!
🌱 16: Sayonara no Asa ni Yakusoku no Hana wo Kazarō
Commentary
It was hard not to cry, this entire movie pulls at your heartstrings. A film about loss and motherhood, what happens to a pillaged tribe after they are forced to integrate into a culture that they are unfamiliar with, and the sadness that comes with immortality, and knowing that everyone you love will eventually die.
🌱 15: Mahou Shōjo Madoka★Magica Movie 3: Hangyaku no Monogatari
Commentary
THE ORIGINAL SERIES: I'll do it over, no matter how many times it takes. I'll relive it over and over again. I will find the way out. The only path that will save you from your destiny of despair. Madoka, my one and only friend. I don't care. Because if it's for you, I'll stay trapped inside this endless maze… forever.
—Homura Akemi
REBELLION: I just wanted you back with me. I didn't care what I had to do… I'd commit the worst sins for one more chance. Even if it turned me into a monster, it wouldn't matter. As long as I could have you back.
—Homura Akemi
⚠️ Spoilers ⚠️
I enjoyed Rebellion much more than Madoka Magica (TV):
i. Having a glance at Homura's inner feelings was compelling because Homura has always been the most relatable to me. If anyone has had survivor's guilt or PTSD flashbacks, you know that it's like going back in time and reliving horrible events, over and over again. Homura's anguish personally represents what it's like to have lived through something like that. Given the material that he's made in the past, I would guess that that's why Hideaki Anno praised Homura Akemi as a character.
ii. Kyūbē got his comeuppance.
iii. The film took a tongue-in-cheek approach to its message and wasn't as overwrought with *senseless drama; even going as far as to cast a sympathetic light on Hitomi.
*I'm in my late '20s, so love triangle drama often comes off as incredibly silly—though it does fit the age demographic of the characters.
🌱 14: Utawarerumono
Commentary
Utawarerumono was the progenitor to Kemono Friends; the plot for the famous mobile game franchise is actually near-identical to Leaf's iconic visual novel! The fantasy world is massive and is part of a regressive, post-apocalyptic premise. The character's have warring tribes, unique cultures/names, etc. Aquaplus delivered every ounce of writing prowess it could muster when creating this phenomenal story!
🌱 13: Re: Cutey Honey
Commentary
Bombastic, beautiful, and has one of the most amazing lesbian confessions, in all of anime. Throughout the whole OVA, my eyes were glued to the screen; I was clanging a couple of metaphorical action figures together, like a kid!
🌱 12: Texhnolyze
Commentary
The ending of Texhnolyze is arguably the most perfectly directed, written, and succinct four episodes of any anime, out of any series. The atmosphere is gorgeous and matches the tone of the corrupt world. The characters aren't able to defy human nature, and instead, realize that they're just all actors in a drama that can only end with the entropic eventuality of death.
🌱 11: Majo no Takkyūbin
Commentary
When I'm having a bad day, I put Majo no Takkyūbin on. It's such a great story about a witch-for-hire, responding to a call for adventure and trying not to lose herself along the way. Such a gorgeous film.
🌱 10: Senki Zesshō Symphogear AXZ
Commentary
Senki Zesshō Symphogear AXZ, or as I'd like to call it, Symphogear Unchained. This series pulls all of the stops in making the technical magic-using gang of girl's battle against the Bavarian Illuminati (yes, they actually fight against the Illuminati) as grandiose and awesome as it can be! The villains are my favorite in this series, too; Adam Weishaupt being portrayed as a fedora-wearing nudist was just too great. His gang of immortal alchemists are really awesome, too: Saint-Germain, Cagliostro, and Prelati. The series also focuses on internal struggles and trauma that Chris is trying to work past, and casts a spotlight on Hibiki and Miku's unbreakable bond. Great season; nearly perfect in its execution.
🌱 9: Kara no Kyōkai: Mujun Rasen
Commentary
Emotionally compelling characters, most interesting concept in the franchise, Mujun Rasen is everything I could ever hope for in a Kara no Kyōkai film. It pushes the boundaries of creativity to set the stage for an intense battle between the mages.
🌱 8: Black★Rock Shooter (OVA)
Commentary
Trims the fat off of the TV series and focuses on the close relationship between Yomi and Mato, and how undisclosed feelings can create a rift between good friends. S-tier animation and visual presentation!
🌱 7: Nausicaä of the Valley of the Wind
Commentary
Subjectively the best film in the Ghibli archive: fantastic heroine, great world-building, and fleshed out villains and fantasy creatures!
🌱 6: Yūki Yūna wa Yūsha de Aru: Yūsha no Shō
Commentary
The latest and greatest addition to the Yūki Yūna franchise, in this short (6 episode) OVA, Yūsha no Shō showcases the best character moments and story in the series.
🌱 5: Renkin 3-kyū Magical? Pokān
Commentary
Renkin 3-kyū Magical? Pokān was not a series that I expected give a 5★ ranking and proves the old adage true: you can't always judge a book by its cover. The comedy is fresh, the characters are endearing, and although it has an often otaku/adult sense of humor… the elements of fantasy are creative and invokes a child-like sense of wonder.
🌱 4: Higurashi no Naku Koro ni Kai
Commentary
I have seen complaints about Higurashi no Naku Koro ni: Kai explaining 'too much' and the resolution having demolished any sense of mystery that the show had, but I don't think that's true at all. While the first season is peppered with breadcrumbs to follow, Kai's intent is to bring closure to the traumatized characters. And, what better to given them closure than to explain what the heck had been happening in the previous twenty-six episodes! It's not even the central cast that gets growth, but the whole town is even shown to begin to welcome change into their stagnant community, as the cogs of the story turn.

From my review of Higurashi no Naku Koro ni (November 17, 2019)
Higurashi no Naku Koro ni is not only an anime achievement, but a literary one! Not many stories are as multi-faceted, atmospheric, and as equally character driven as the Higurashi no Naku Koro ni series. A narrative that not only creates a world entrenched in primal fear, but then turns it on its head to subvert the lingering paranoia that the characters' have come to rely upon. And much like the phenomena of Japanese cicada cries, the summer will come and end with that same frequency. Momentary fear is defeated by the will to survive: life will go on.
🌱 3: Urusei Yatsura Movie 3: Remember My Love
Commentary
Remember My Love is entrenched in a melodic '80s ambience, that takes the viewer on both a colorful and entrancing ride through carnival scenery, time & space, and everything in between.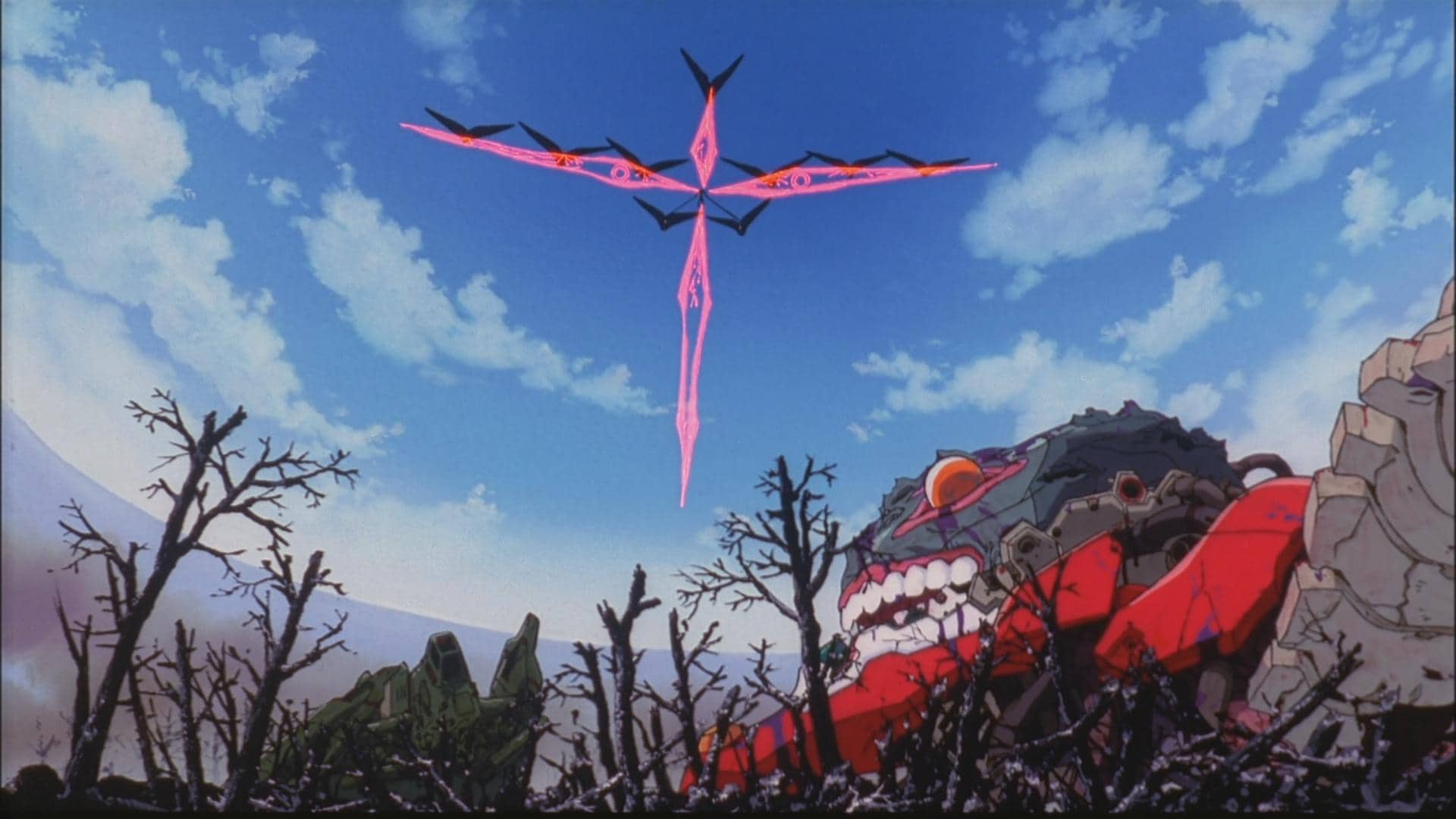 🌱 2: The End of Evangelion
Commentary
I watched the End of Evangelion at the age of thirteen. I had just visited a Suncoast video store in the mall, and this guy in his twenties with an industrial piercing asked me if I had seen the movie. "No, but I watched the series," I said, "is the movie good?" He paused, and said with averted eyes, "There's a really cool fight scene with Asuka! You should watch it!" He then went on to tell me that he was repurchasing the new Platinum edition and selling his old collection.
I ordered a used copy on Amazon and eagerly awaited and anticipated the conclusion. I ignored the NOT RATED marking on the back and I plugged it into my Grandma's DVD player. I was horrified, so much so that I had to put it away for two years, before revisiting it as a high-schooler. At the time, I didn't understand why there wasn't a happy ending or what the white stuff on Shinji's hand was.
Neon Genesis Evangelion was the first fictional series that taught me that in real life, things don't always end happily, and that life isn't fair or kind. I went on to do my final lecture in Speech class in high school on the End of Evangelion, I spoke about the references to Freudian and Jungian psychology, as well as the abundance of Cabalistic symbology.
Read Full Review
🌱 1: Urusei Yatsura
Commentary
The title for Urusei Yatsura is a pun. The word 'urusei' (うる星): the character for 'uru' (うる) means 'possible' and 'sei' (星) means 'good' or 'nice'—is a pun on the word 'urusai' (うるさい) which can be translated as 'noisy' or 'annoying.' The title was localized in English as 'Those Obnoxious Aliens,' but a more accurate translation would be 'Possibly Good Aliens' since the suffix in the word is '(uru)sei'—not '(uru)sai.' The title really fits the mood of the series, all of the cast members have a fixation or fatal flaw that ails them in some way or another, which leads to the screen being flooded with a cataclysm of devilishly fun chaos.

From my review of Urusei Yatsura (October 31, 2019)
Urusei Yatsura is the only anime series that I consider to be a masterpiece. It has excellent character writing (rife with complexities and human error), great designs, the seiyū fit the characters perfectly, the humor is intelligent, and the directing was revolutionary, at the time, and even now! Urusei Yatsura is a game-changer that is full of magic and amazement for old and young minds alike. Unfortunately, Rumiko Takahashi poured all of her ingenuity into Urusei Yatsura and that originality that makes this series so special, is severely lacking in her later works. I think that creations like Ranma ½ and InuYasha became too commercialized and Takahashi lost touch with what made her work so great to begin with. It isn't the hollow marionettes, that mime their predecessors, it's the emotional complexity, cycles of the characters repeatedly spiraling into their own hypocrisy, and their faulty human characteristics that brought them to life! Not Ranma ½'s childish romantic fluff, or InuYasha's neglect of characters for grandiose world-building, nor is it Kyōkai no Rinne's vapid amelioration of character inconsistencies that made her first manga so special. It was attention to detail, the realism, the surrealism, and the basic affection for the characters that were lovingly conveyed through their triumphs and flaws. At this time in my life, I doubt that a TV anime could ever replicate the passion put into Urusei Yatsura. And that is why me and the remnants of its diehard fanbase are so taken with this show!